Welcome to a Well-Designed Business! Are you in for a treat today! Jenny Slingerland of Black Ink Interiors contacted LuAnn to let her know about her experiences working with Brad Leavitt, President and Founder of AFT Construction in Arizona. Brad has the AFT Construction Podcast, and he and LuAnn have been guests on each other's podcasts before, so it's easy to see why Jenny gives him such high praise for being a great builder to work with.
You're sure to be impressed by Brad's message and outlook on business, as well his obvious love and respect for interior designers. Listen in as he explains from the builder perspective all the reasons he knows that you make his projects more beautiful, more efficient, and more profitable.
AFT Construction is an award-winning construction firm and has been nationally published in magazines such as: Fine Home Building, Luxe Interiors and Design, and Professional Builder. Brad Leavitt is an energetic public speaker and ambassador for many national brands including Kohler, Pella, Cambria, Elkay and Post-it Notes. Brad completed a Bachelor of Science in Construction Management from BYU in 2005 and worked on notable projects around Phoenix, including the Omni Montelucia in Paradise Valley.
His Podcast, "The AFT Construction Podcast", is focused on bringing value to its listeners, no matter their industry. The topics are focused on marketing, social media, entrepreneurship, organization, building science and construction. AFT has continued to exceed industry standards and create strong client relationships based on integrity, reliability, and quality. Brad and his wife Ashley have 6 children, 5 girls, and 1 boy. Brad is active with all 6 of his children, serves in his local community, and loves all sports.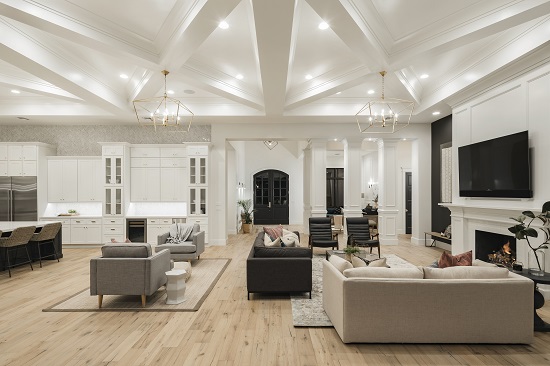 Show Highlights:
Brad's company will not build a home for a client that does not have an interior designer on the project.
Many companies have disregard for architects and interior designers, but the architects and designers actually bring expertise and a lot of benefits to the table.
Brad shares the reasons why he does not have any in-house architects or designers.
It's important to get the client onboard with understanding the importance and value of a designer.
Selling points to take note of when pitching to a potential builder:
Having a designer involved helps a builder be more efficient, often saving as much as 2-3 months on a project. This can represent thousands of dollars in the builder's pocket.
Having a designer involved improves a builder's relationship with his clients. A builder can get information from the designer without having to interrupt the client's day and this avoids the frustration of arranging meetings while a job is stopped.
A huge benefit for the builder is getting published. Having a room or outdoor area styled makes a huge difference!
The referral relationship is a valuable component.
Businesses are built on reciprocity.
Brad offers some great suggestions on how to meet builders: builder organizations, supply showrooms, networking events, and on social media.
Building relationships and trust are necessary before beginning to work together.
Brad has already been invited back for additional guest appearances on A Well-Designed Business! Future episodes will include a list of the Things Your Builder Wants You to Know and a list of his pet peeves. You don't want to miss these!
Stay tuned for something else you don't want to miss: more information will be forthcoming in the next couple of months regarding a new course being taught by Jenny Slingerland of Black Ink Interiors called "Design Build for Profit". To be notified of open registration, put your name on the list at Design Build For Profit.
Links :
LuAnn's Website
LuAnn's Podcast - Please SUBSCRIBE, Rate & Review!
Purchase LuAnn's Books Here:
The Making of A Well - Designed Business: Turn Inspiration into Action
A Well-Designed Business - The Power Talk Friday Experts
LuAnn'sBlog
Is Chairman of the Board Right for YOUR Business?
Are you a #babydesigner, #risingdesigner, or a #seasoneddesigner?
Take the "What Level is Your Design Firm" Quiz and Find Out!
Get a list of things to do that day, by the end of the week and by the end of the month, in addition to the best podcast episodes to listen to appropriate to where you are in your business journey!
Connect with Brad!
Brad's Email
Brad's Website
The AFT Construction Podcast
Brad's Instagram (AFT_Construction)
Brad's Pinterest(AFT_Construction)
Brad's Facebook
Brad's LinkedIn
A Big THANK YOU to These Podcast Sponsors:
When Your Client Wants the Finest in Luxury Appliances for Their Kitchen:
Choose Monogram!
Set Up Your Design Trade Account Today!
FREE Trial! A One-Stop Shop to Keep Everything Organized!
My Doma Studio: A Well Designed Business
Other shows mentioned to include in show notes: